SIS-USA ERGONOMIC ADJUSTABLE WORKSTATIONS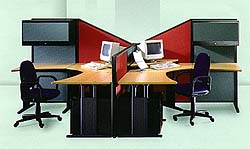 USER FLEXIBILITY
Back Be Nimble advocates flexibility for enhanced productivity. Our Danish workstations like the Generation IV from SIS-USA support this philosophy. That is, they allow for minor posture adjustments and the versatility necessary for a user's comfort and enhanced productivity.

Why Bi-level?
The user can have his monitor and keyboard on separate levels, allowing independent height adjustments for ideal viewing and typing comfort.

Generation IV computer support furniture is a modular system with full sitting and standing ergonomic adjustments. It enhances productivity and minimizes complaints of the back, neck, shoulder and arm. The line of bi-level tables with sliding, tilting keyboard work surfaces and independently adjustable VDT surfaces make Generation IV an ergonomist's dream. Level adjustments are made easily with top mounted cranks even when the work surface is loaded with a lot of weight.
Additional productivity features:


Rounded edges are kind to the user's forearms and circulation
Grommet holes & wide legs for wire management
Non-reflective matte finish
Our Generation IV and more economical Partner Products may be integrated with other manufacturer's workstations.
Why SIS?


Work surfaces crank height adjust (left and right handed) from 23" (keyboard) to 39" (VDT) to fit seated and standing workers.
Save time with the wire management vertical pop out leg covers and deep horizontal troughs which securely hold wires, power strips, etc.
Optional field installed accessories let you buy what you need now, and add later as your needs change.

CPU holder clears desk space while protecting equipment from dust and abuse
Leg extensions raise work surfaces 3.5" for taller people
Generation IV finishes & laminate tops-----
Steel frames come in tan, charcoal and light grey
Laminate tops come in six different colors.
You will need to specify your preferences for top laminates and frame finish when you place your order. Click here for instructions on how to build your own workstation.
Click below to go to a category of Sis Workstation
[ HOME ]

BackBeNimble.com provides information and products as aids to understanding and addressing care of the human frame, ergonomics and related ailments. Such offerings should not be considered medical advice or substitutes for the recommendations of an attending physician or other health care professional, nor as specific recommendation or endorsement of any procedure, therapy, treatment, back pain relief product, memory foam mattress or adjustable bed.

Contents Funded and Copyright © 1994-2023 by Back Be Nimble - All Rights Reserved.
Implementations are by and Copyright © 2023 by hav.Software - All Rights Reserved
Page Modified Sat Oct 28 21:16:14 MDT 2023