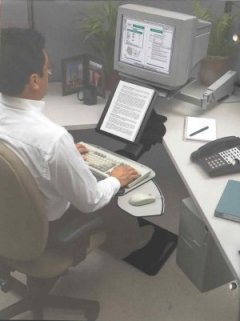 WProductivity in the work environment must be both aesthetically pleasing and functionally ergonomic, consider WorkRite for all ergonomic and workplace needs. Work-rite platforms and accessories adapt and install easily on new or existing office workstations. Workrite has a fundamental commitment to the design and manufacture of products that exceed customer demands for functional work place design. Every product is developed in partnership with human engineers and considers input from end users, like yourself.

Personnel involved with: Health and Safety, Procurement or Risk Management find that Workrite offers practical, compelling solutions for reducing injuries and increasing productivity, regardless of the intensity of the working environment.

WorkRite provides ergonomic solutions for every aspect of the office environment, including:
Keyboard & input platforms for corner and straightway desk configurations
Adjustable arms for both sit and sit-to-stand enviromnents
Wrist supportive platforms and rests
Portable, adjustable laptop, notebook and iPad stands
Document Writing platforms
GENERAL INFORMATION: View basic information for various WorkRite features and materials in the General Information section.
If you are looking for or researching a single item (like platform or adjustable arm only), try the Model List by Category.
View by Workrite part number Part Number Cross Reference