a = 11 1/2"
b = 9"
c = 12 5/16"
d = 9 7/16"
e = 1 1/2" (pad height)
Weight: 2 3/4 lbs
We compared the TravelRite™ model 2400 Laptop Station to other top-of-the-line adjustable laptop stands on the market and Workrite Travel-Rite is the top of the food chain. Travelrite offers a portable ergonomic office in this station for laptops and notebooks. Travelrite positions the screen at eye level and makes the keyboard more accessible and more comfortable while working.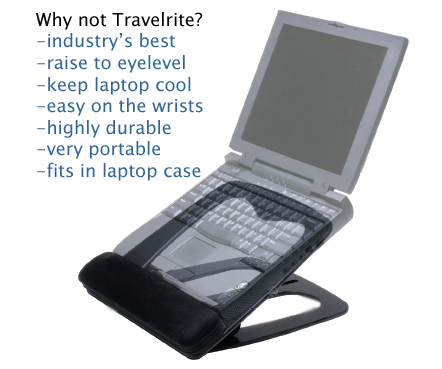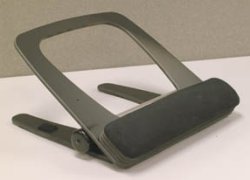 Ergonomic travel solution for airplane trays, internet cafes, home use, or at the office.
Travelrite 2400 is portable, extremely rugged yet ultra comfortable.
Elevates laptop screen as high as eye level for improved head and shoulder posture.
Angle adjusts for neutral positioning of hands and wrists.
Fantastic passive airflow cooling feature protects your laptop.
Folding, lightweight, portable and virtually indestructible
Use as a document or book holder when not supporting laptop.
Want the best? Try the Travelrite Laptop Stand from Workrite.


Adjusting bar moves forward and back to change platform tilt from 0 to 30 degrees. At 30 degree tilt, the laptop screen is raised 6" from worksurface, providing an improved ergonomic position. JelSuedeRite™ pad for comfortable palm and wrist support. Pad height can be adjusted from 3/4" to 1 1/2". Non-slip pad on underside holds unit firmly in place. Velcro tabs securely hold unit together for ease of carrying.