1- Improves function of postural and core stabilizing muscles. Stabilizing muscles balance the actions of prime mover muscles to coordinate smooth movement patterns. Core muscle strength rehabilitates injured joints and prevents further injury.

2- Improves posture by strengthening the supportive musculature of the spine hips and abdominals.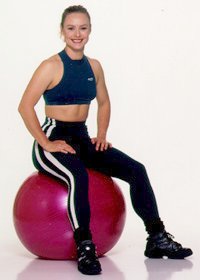 3- Improves integrity of stance, balance and agility by creating instability in the workout or training environment. This forces your own core muscles to enhance dynamic support and stabilization of your body during exercise, sport performance or everyday activities.
4- Increases core strength and development: training on a Swiss Ball requires constant recruitment of the core musculature, unlike fitness machines whereby stability of the weight is provided by the equipment. Being that all body movements emanate from the core it is essential to have a strong and well coordinated trunk musculature. Result: Improved function and ability to transfer more power from the core to the extremities.
5- Develops strength in all planes of movement (sagittal, transverse and frontal), as opposed to machine training that usually strengthens mainly in one plane of movement. Most injuries occur in the transverse or frontal planes; a sign that we should be developing more strength in these planes. Result: Improved functional strength and decreased chance of injury.
6- Challenges your nervous system resulting in improved speed for recruitment of muscles leading to better quickness, strength, power and overall performance.
7- Birth your baby on a TheraGear ® Pro ABS ball. This makes it easier on yourself and your baby. Gravity takes over, doing some of the work. Your baby moves downhill while properly positioned on one of our safe Birth Balls (choose only the Pro ABS for extra safety). You should choose the Theragear Swiss Pro ABS Ball for best birthing ball. Safety and less worry is a major concern for us..