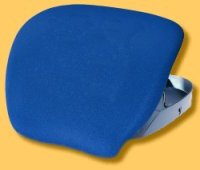 Why buy an expensive lift chair, when you can buy the Uplift to satisfy those needs almost anywhere you go?



The Uplift Seat Assist is a self-powered lifting cushion that assists you gently up and down from any armchair or sofa. The Uplift's gentle action relieves stress and strain on painful joints, and eliminates the need to "rock" out of your seat.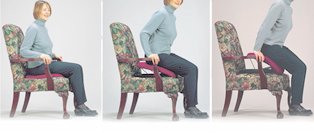 Even those of you who currently need "a pull" to get up can rest assured you won't any longer: Uplift is strong enough to lift up to 80% of your weight. It is easy to use, and takes only seconds to adjust to your correct weight setting.

You'll find the Uplift very helpful in your home - especially in the kitchen, dining and living rooms.


And, best of all, you can use the Uplift almost anywhere you might need assistance standing from a seated position. Weighing only 9 pounds, the Uplift Seat Assist flattens for easy transport and the built-in handle makes it easy to carry anywhere. The Uplift will work on ...



Sofas,
Church Pews,
Patio Chairs,
Electric Scooters,

Kitchen Chairs,
Chesterfields,
Restaurant Seats,
Theater Seats

The Uplift is Medicare approved Durable Medical Equipment (DME) (details)
FEATURES:
Safety: Uplift's Patented, flexible seat offers a stable, horizontal seating surface that lifts and lowers you gently and evenly. Patent No. 5316370


Easy To Use: Simply select one of six settings closest to your weight and Uplift is ready to use.


Secure: Non-slip material bottom ensures Uplift stays in place and doesn't shift.


Comfortable: High density foam cushion is molded to body contours for extra comfort. BackBeNimble offers the V-foam padded Uplift Assist Seat products. V-foam is a visco-elastic, slow release foam also known at memory foam, that protects from pressure sores and provides added comfort.


Self-Powered: Uplift's hydro-pneumatic piston slowly and automatically lifts up to 80% of your weight. No wires or motors, no latches or batteries are required


Portable: Uplift flattens for easy transport. A built-in handle makes it easy to carry anywhere.


Quality: Fire retardant, waterproof coating protects the surface of the foam cushion.


Low Profile: Uplift only adds an inch and a half to the height of your seat when you sit on it.