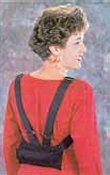 Posture Pleaser is a weighted counter-balance postural support designed to aid the prevention of muscle strain in the neck, shoulders, and back. The unit weight is adjustable from 2-3 lbs. and has a one pound weight that comes off easily should you only need a two pound counter-balance.

Wear Posture Pleaser anytime, but especially when you are doing any activity that involves the use of your hands and arms extended in front of your body. This is the perfect and best mail-handlers or postal workers posture support. It is almost a necessity for avid quilters and crafters.
Posture Pleaser encourages good posture which helps you use proper body mechanics. Good posture aids in preventing repetitive muscle strain in the upper back, neck and shoulders. When you stand or sit with your arms and hands extended in front of you your line of gravity moves forward. The muscles in your back try to keep your shoulders from rotating forward. Over a period of time these muscles tire and pain occurs. Posture Pleaser acts as a counter-balance to help equalize your center of gravity in the upper torso, thereby relieving some of the muscle strain in the neck, shoulders, traps and should blades or mid-back.