Concorde
TM
Fly high with latest ergonomic technology at the push of a button
Now with Relaxor/Pulsor Vibro-Tactile Massage!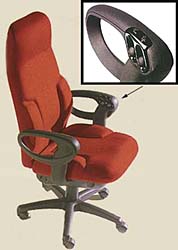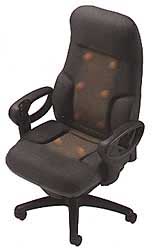 Concorde is an industry "first", providing push-button control of your seating position from the arm of the chair.

Push-button control -- the standard in luxury automotive and aircraft seating -- is now the new world standard in workplace seating with Concorde.
Innovative and unique, Concorde provides state-of-the-art ergonomic seating for management, multi-shift and tall/large applications.
What makes it unique is Concorde's arm-mounted push-button controls. Press once, and Concorde floats free.
Press again, and Concorde locks firmly in position.
Exceptional comfort, perfect support and a limited lifetime warranty are yours with Concorde.
Relaxor/Pulsor Vibro-Tactile Massage
Stress Reduction System:
(available on models 2406-18 and 2416-18 only)

Control buttons turns the massage function on or off. LED lights in the right chair arm illustrate which massage motors are in use.
A control wand allows specific adjustment of the massage type, location and intensity.
Rechargeable battery slides into the built-in, under seat pocket (AC adapter also included).
Rechargeable battery and charger are included with each chair at no extra charge.
---
Ergonomically Speaking
Ergonomists have determined that the human body cannot remain static for long periods of time. To remain fresh, alert and efficient, the body must make small but constant movements to eliminate muscle fatigue. Concorde advances this most fundamental support requirement...push-button controls allow you to instantly adjust back recline, chair tilt and seat height positions...sustaining body and mind in new levels of comfort as you work.
[ HOME ]

BackBeNimble.com provides information and products as aids to understanding and addressing care of the human frame, ergonomics and related ailments. Such offerings should not be considered medical advice or substitutes for the recommendations of an attending physician or other health care professional, nor as specific recommendation or endorsement of any procedure, therapy, treatment, back pain relief product, memory foam mattress or adjustable bed.

Contents Funded and Copyright © 1994-2023 by Back Be Nimble - All Rights Reserved.
Implementations are by and Copyright © 2023 by hav.Software - All Rights Reserved
Page Modified Thu Feb 22 16:35:06 MST 2018